This projects are ones where we took other's ideas, developed them, then worked with them to bring their ideas to market. These are long standing relationships we continue to foster and grow with as we wish to see their dreams come to reality.
We also work with some open source projects contributing time and resources to help them grow.
Atomic Kawaii Sticker Pack
We've watch Atomic grow her art style through the last few years and found her work to be quite... kawaii. We suggested to her that some of her work would look good as an Message Sticker pack for iOS/iPadOS and, after a few months of discussion, she was over joyed to start working on a pack.
Over several months we helped her figure out what kinds of stickers, how the process would work, and what we needed from her to get it published.
Since Jan 2021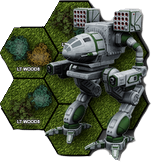 MegaMek
The MegaMek Suite of programs have been in production since early 2000 as an open source version of the BattleTech Table Top game written in Java.
We work with their team on a variety of things including their website (hosted on GitHub Pages) and their forums, which we host and manage for them.
In addition to the above, we are working with their developers to bring additional features to this open source project including ways to handle announcement of games, back end support for data entry, and other enhancements to make the suite more enjoyable for all those play.
Currently we are working with the team to redesign the networking stack in Java to use WebSockets so that we can build out web pages to allow for real time observing of in process games, chatting, and optional online storage of campaign files for easier migrations between versions.
Since Jan 2018